Our first 'gateway sledding' tour is only just the beginning
When we first starting coming to Golden, we mainly stuck to downhill skiing. That's always been our No. 1 winter activity, and Kicking Horse Mountain Resort has been amazing for us in that regard.
But it was only a matter of time, as we came to discover more of what Golden has to offer, that we would also start expanding our repertoire of activities.
We've taken up snowshoeing and cross-country skiing, perfect activities for the 'outdoorsy lite' in me. I had no idea I would also come to try — and enjoy — of all things, snowmobiling.
I've always considered sledding a sport for more adventurous outdoorsy types; young strong guys and gals with more guts and a higher risk tolerance than a 40-something year-old-mother of two.
Not so, it turns out.
Sure, there's plenty of high-adrenalin adventurous mountain sledding here, as demonstrated by the steady pageant of sled decks and trailers you see in Golden throughout the snow-filled months. But it turns out snowmobiling is also a great family activity: fun, safe, and super easy to do on Golden's extensive network of groomed trails.
The town even has awards to prove it. Golden won the 2014 Platinum Snorider's Choice Awards for 'Favourite Mountain Riding Area in BC' and 'Most Challenging Riding Area in BC' as well as the 2014 Silver Choice Awards for 'Favourite Overall Snowmobling Area in BC,' 'Favourite Groomed Trail Riding in BC' and 'Favourite Area of Family Snowmobiling in BC.'
Who knew? 
But true it is. Last weekend was the first time ever I'd been on a snowmobile. My introduction came about in classic 'outdoorsy lite' style, participating in a guided tour with Golden Snowmobile Rentals & Tours
Aaron and Kim are GSR's owner-operators. They started the company nearly a decade ago and have since expanded to include a retail side, Mountain Motor Sports, which specializes in both sleds and ATVs. They are exactly what you'd expect from a Golden business ‑ family-run, super-friendly, and with amazing customer service and expertise. They pride themselves on keeping their groups small, especially their mountain tours, to ensure maximum enjoyment as well as safety.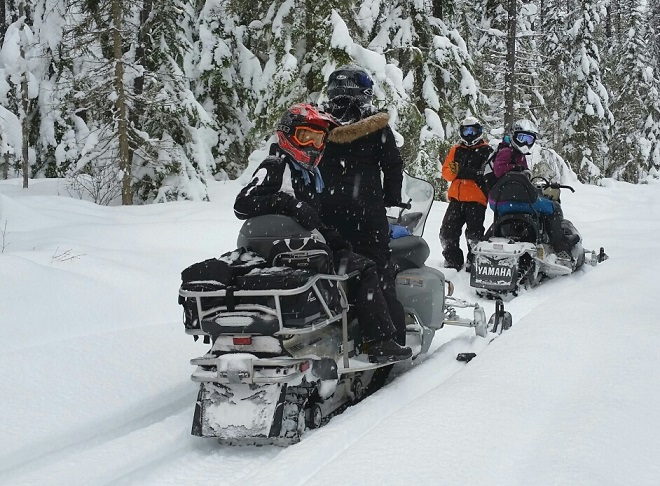 GSR's main 'trail tour' is a beginner-friendly, family-friendly half day along the new Westbench Trail, a scenic 30 kilometres or so of groomed trail, which you access right from the conveniently located Gorman Lake staging area. It was the perfect way for us to try out snowmobiling and see what we thought of it. Turns out it's really really fun, and I can definitely see the appeal. Trail riding is super-easy, which makes it great for families of all ages. The machines are even built for outdoorsy lites. They're all equipped with hand and thumb warmers that you can turn off and on as your fingers need it. They also all have toasty foot wells, keeping your toes warm with heat coming off from the engine (who knew sledders were such princesses?) 
Our half-day tour was the perfect introduction to snowmobiling. We learned how to work the machines played with our speed on the trails and played with maneuverability in soft snow on a lake. We even found time to venture off the groomed trail for a taste of beginner-friendly fresh tracks adventure – along with learning a bit about how to dig out when you get yourself stuck in the snow. Mix that in with a few breaks for snacks and chit-chat, and it adds up to one pretty terrific experience.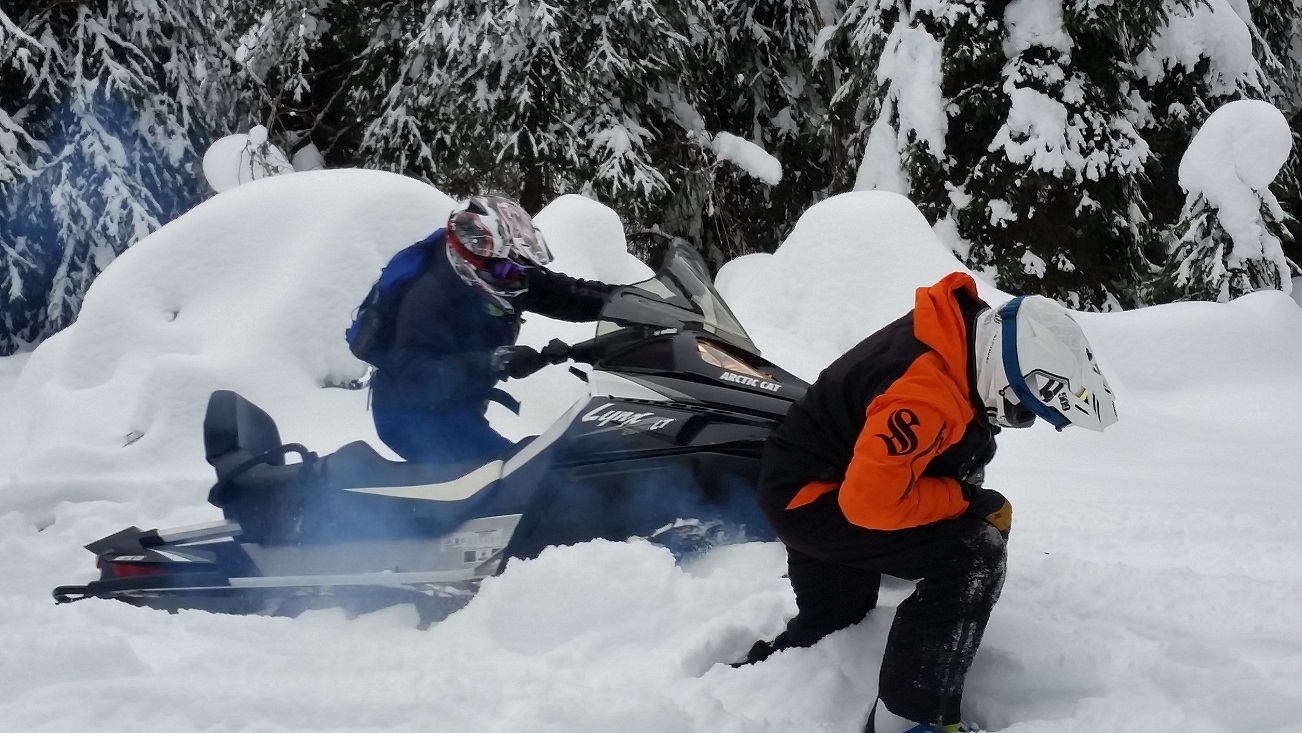 So much so, I've dubbed our day on the Westbench Trail our 'gateway tour.' Because now I want to go again. Only this time I want to try the next level, the half-day 'mountain sledding' tour so I can try out my skills in more powder and with more varied terrain, but still with the safety of having a guide and the fun of going with a group.
So there you have it – snowmobiling as a fun new 'who knew' activity that still suits the 'outdoorsy lite' in me. Let's go sledding!