Craft market and local shops a delight compared to big city malls
My in-laws were just here for a visit. Seeing as how my mother-in-law is more a shopper than a skier, shopping is always near the top of the 'things to do' list when they come to Golden — Christmas shopping, window shopping, necessities shopping, market shopping, all of it.
This trip was no different.
On Saturday, we hit the Christmas Craft Faire, where the kids were treated to some early Christmas gifts from their grandparents (gotta love grandparents!). My daughter found herself the cutest knitted scarf; my son, a hand painted 'Gone Skiing' sign for his bedroom wall. This is definitely one of the things I love about shopping in Golden; it has a lot to offer in terms of unique and artisanal goods. The next market, the Christmas Farmer's Market on Dec. 20 will be my priority 'go to' for any last minute and 'checking off the list' purchases. 
On Sunday, we hit my mother-in-law's all-time favourite store in Golden (also one of my favourites), Kicking Horse Interiors, where she spotted a new coffee table she thinks will be perfect for our living room (I'm still thinking about it) as well some pictures she just adored. (Psst, one of those pictures I will go back for this week because it will make a perfect Christmas gift for my mother-in-law.)
Next stop was Home Hardware, mainly for its attractive selection of housewares. We discovered, quite happily, that all their Paderno stock was (and still is) 60 per cent off. Three more Christmas gifts purchased – and more than one person who will enjoying a spiffed-up kitchen come Dec. 26.
On Monday, my in-laws shopped the complete 'up and back' of the old downtown, a pleasant two-block span of stores that has everything from ski and outdoor gear, to clothing, to gifts, to kids' stuff, to the most endearing old-school book shop (think Monroe's in Victoria but smaller and quainter) with its own upstairs café. It's a perfect spot for the requisite 'drink and bite' of any shopping excursion. The old downtown is also home to my favourite gift shop, the Art Gallery of Golden — perhaps a bit of a misnomer because it really does have a bit of everything artistic, not just paintings and photos. I've bought everything from jewelry to prints, pottery to handbags, kitchen aprons to metal art there. It's absolutely the best spot if you need a gift for a wedding or a housewarming, or if you are just wanting to find something nice for that person who has everything.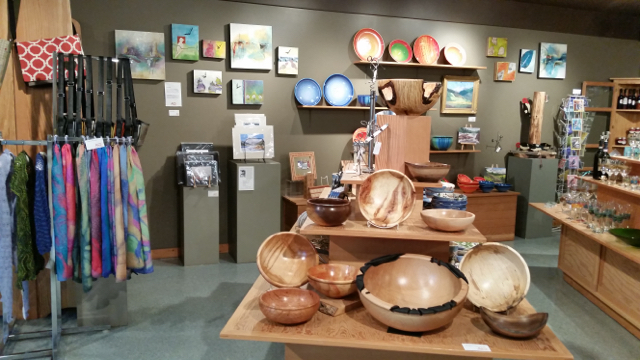 On Tuesday, my in-laws headed home — back to the land of malls and big box stores and busy parking lots and sales staff who never seem to know enough or be as helpful as you'd like them to be. While I admit I sometimes miss not having the convenience of a Costco or a Winners nearby, I really don't miss the experience of city shopping at all. I've never been much a fan of the mall or box store scene – the traffic, the lineups, the sameness of the stores, the bare-bones customer service. For me, city shopping always seems to feel more like a chore than something fun.
In Golden, the shopping experience couldn't be more different. Sure, shopping locally might not get me absolutely everything I need all the time, but it does get me most things. And it's actually enjoyable. I can do my shopping at a pleasant, relaxed pace and I know I will get amazing customer service. Shopping in Golden, as my mother-in-law can attest, is practically Renaissance-like when it comes to the customer service experience — you almost can't believe how friendly, helpful and knowledgeable the shop staff are. Add to that is no parking stress, no lineups, no busy malls to navigate — just down-to-earth, largely owner-operated stores with interesting and unique quality goods.
It certainly makes for a fun and gratifying afternoon if you aren't skiing, and its one more way to experience what makes Golden such a great place to visit and spend time.  
— Stephanie Knaak
Other links:
Bacchus Books and Café: http://www.bacchusbooks.ca/
Kicking Horse Interiors: http://www.kickinghorseinteriors.ca/about-us.php