From ballets to plays and big name musical acts, this town has it all.
Before moving to Golden I probably averaged one artsy-type event a year, two if you count my daughter's dance recitals. Mamma Mia, the Nutcracker, A Christmas Carole — that was about as adventurous as I got.
I really didn't venture much beyond musicals and the classic Christmas stuff. Not from a lack of interest necessarily: possibly a bit from intimidation of not really knowing a lot about theatre or classical music or the ballet. It was also in part because of the expense and logistics associated with taking a family of four to a show where we didn't really know what to expect.
Kicking Horse Culture changed all that. They are true to their mission: "to engage, energize, and enrich the cultural life of Kicking Horse Country." I actually credit Kicking Horse Culture with my own evolving interest in the arts.
From the sheer diversity of talent and the number of shows they bring to Golden in any given year – theatre, modern dance, ballet, films, nearly every kind of music you can think of. There are the big acts like Ziggy Marley and Bruce Cockburn and the lesser known. And the price at which they are able to offer these shows is truly remarkable. You'd be hard pressed to find another town of similar population offering anything close to what Kicking Horse Culture manages.
For most live events, an adult show ticket costs only $20, the kids $5. Granted, that's the rate for members but given that an annual family membership costs just 20 bucks, it's pretty much the best deal going. The affordability factor works as an incentive to get us out to shows. Sure, I'd buy tickets to Bruce Cockburn regardless. But Tom Allen's Judgment of Paris — a five-person staged chamber musical combined with storytelling, celebrating the lives and music of Debussy and Ravel (fellows I didn't even know about until I went to the show) — I wouldn't have bothered if tickets were at more standard prices.
And every time I do go to a show, I would have previously passed up in my pre-Golden, pre-Kicking Horse Culture days, I'm always so glad I did. Without fail, I am thoroughly entertained, completely impressed, and come away feeling that much more cultured, that much more interested in the arts, that much richer for the experience.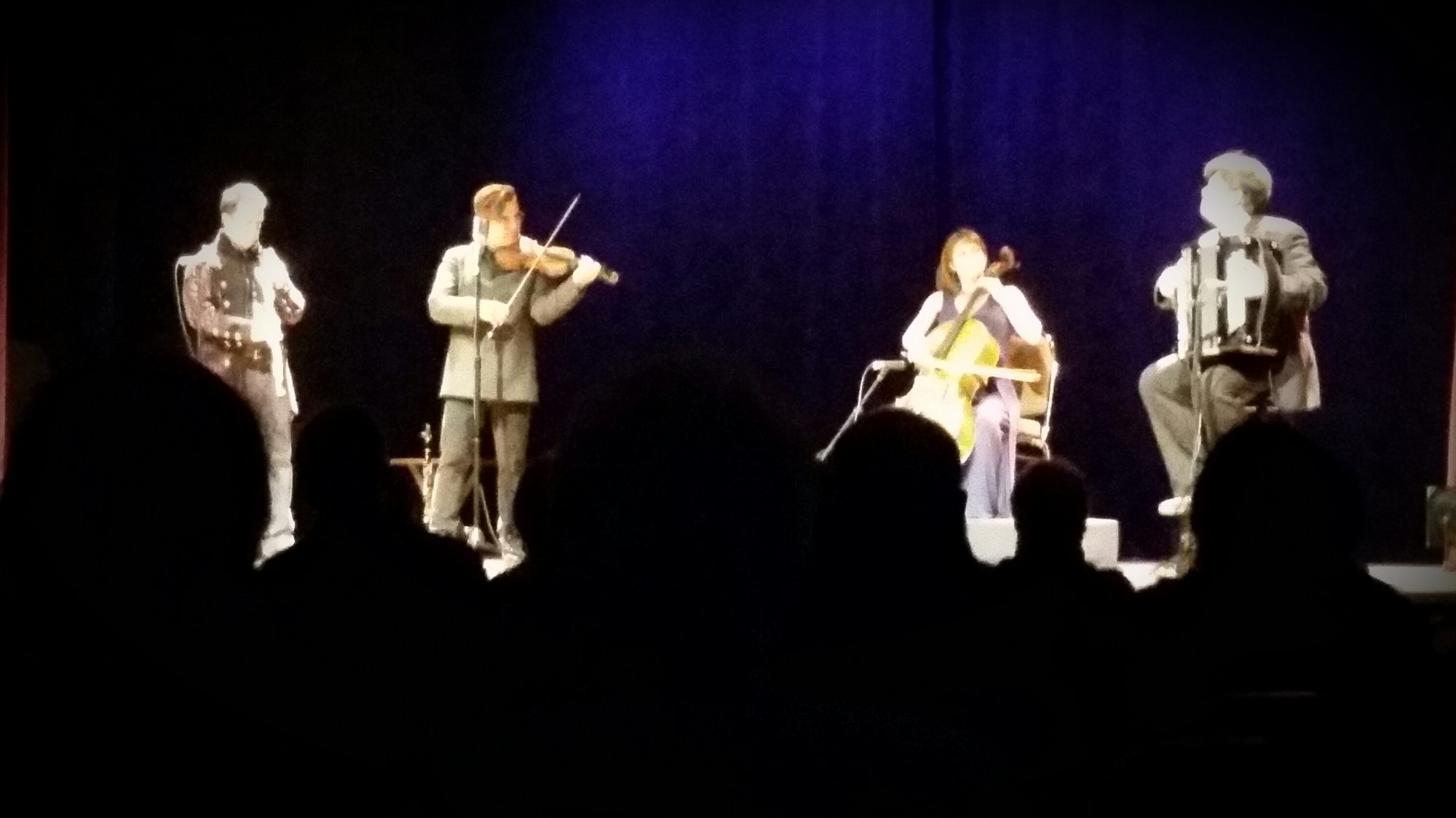 In the last year and a half alone, I've managed to get to two Summer Kicks music concerts, a ballet production, two plays, a live-performed filmed opera, a 'Best of Banff Film Festival' film fest show, some cool indie movies, a couple of art gallery receptions, Tom Allen's Judgment of Paris, Quartetto Gelato (they played this amazingly eclectic mix of music that included classical masterworks, arias, tangos, and folk songs) and two years of the annual Snow King's Masque Parade, And I've got two more events on my list this spring to attend — a play called Grim and Fischer: A Deathly Comedy in Full Face Mask and a Jimmy Rankin concert.
All in all I seem to be averaging about 10 times more artsy-type exposures than in my previous life. Kicking Horse Culture, so it seems, is turning me into an arts and culture type. For me, this is just one more happily unexpected development that's come from living la vita Golden.
 
More info:
If you think you might be interested in checking out a Kicking Horse Culture show or event during your stay, here are a few things worth knowing:
·Full details about Kicking Horse Culture's events and shows are available on the website. Details can also be found on Tourism Golden's event's calendar.
Tickets for any of the shows can be purchased at the Art Gallery of Golden, located in the heart of Golden's historic downtown. When you go, be sure to leave yourself a few extra minutes to browse the gallery. They have really really nice stuff there, everything from pottery and paintings, to posters and prints, to artisan soaps, wooden dishes, jewelry, metal art, even personal accessory stuff like wallets purses, scarves, and local food delicacies like honey and jams.

If a show isn't sold out, tickets will be available at the door, but expect the price to be a bit higher for last minute (don't worry it'll still be a bargain compared to what you'd pay anywhere else.)
Seating is always general admission. Because every seat in the house at the Civic Centre has a good view of the stage, there's never any need to panic or to feel pressured to 'get there early' to get a good seat. I typically show up 15 minutes before show time and that still leaves me plenty of time to hang my coat, find a seat, buy a drink and say hello to a few people. I do love that about Golden.
Yes, there's a concession. Expect both alcoholic and non-alcoholic offerings, usually a few sweet treats, too. And here's the real luxury – you get to take your drinks to your seat! For one of the shows I went to this year, they even had little candle-lit occasional tables interspersed among the chairs. A lovely touch. 
If you are visiting Golden in the summer, try to hit a Summer Kicks concert. There's one every week of the summer. Summer Kicks concerts are held in Spirit Square and are free to the public