Feel free to wear your toque to dinner and rest assured that hiking boots will always be considered fashionable footwear in Golden. After all, It's all about the mountain lifestyle.
Why toques and hiking boots? Because most of what people do in Golden involves being outdoors, playing on and amid the peaks and valleys.
For winter fun, I'm a fan of skiing. I'm a long-time downhill skier and a new cross-country ski lover. It was the simple and convenient fact that Dawn Mountain Nordic Centre is literally right down the road from Kicking Horse Mountain Resort that got me hooked on Nordic. Poor visibility in the alpine? Click off the downhill skis and head over to Dawn Mountain for a fun loop on the cross-country trails.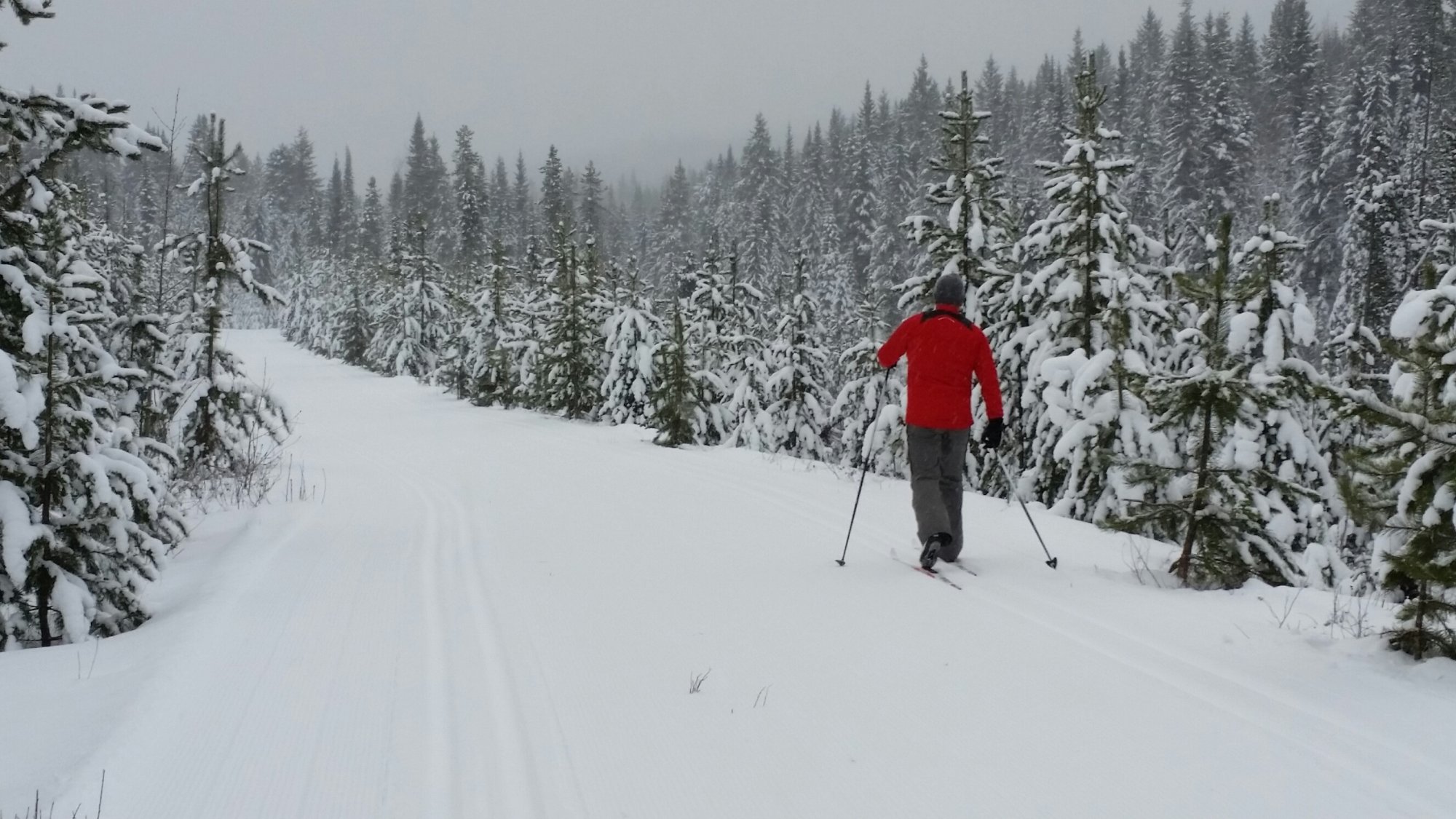 I actually switch off regularly between downhill and cross-country now, sometimes even doing both the same day. I've got it down to a fairly weather-driver formula that looks like this:
Bluebird days. Without question, bluebird days are downhill days. You simply can't beat the views from the top of KHMR on a full sky bluebird day. For me, downhill skiing with the warmth of full sun on my face always feels like I've captured a little slice of heaven. The one exception to this rule —cold bluebirds.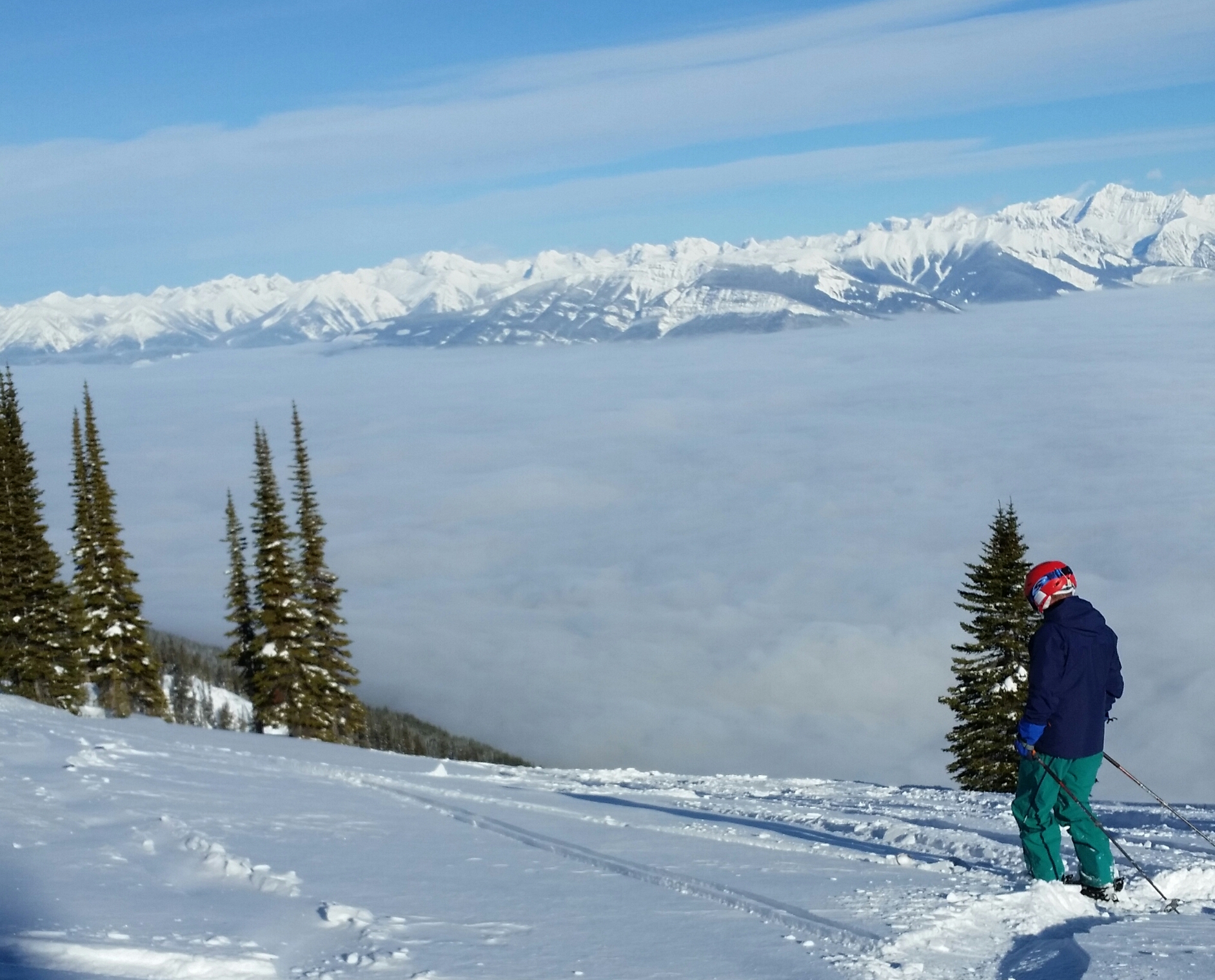 Cold weather. For this outdoorsy-lite girl, anything colder than -15○C means I'm going cross-country skiing. I don't care how great the bluebird views are from the top of the Stairway to Heaven chair, I hate being cold. It's much easier to stay warm on cross-country skis. And the views are still awesome from there.
Powder days. Downhill. Obviously.
Poor vis. If it's a powder day with bad visibility it's still always downhill first – but with the option of switching to cross-country after a few gondie or chair laps if the light is really bad. As an outdoorsy lite, I'm not totally comfortable downhill skiing in the trees, which is of course the best place to be if the light is flat. And because I dislike flat light only slightly less than I dislike being cold that means that if it's not a powder day, I drive right past the KHMR parking lot and head straight for the Nordic Centre. 
Any other mix of weather and snow conditions means I decide in the morning what activity I might feel like doing, often taking both sets of skis up the mountain, sometimes even going downhill in the morning and cross-country in the afternoon.
Of course, there are always those days when I'm feeling a bit less energetic, or I'm in the mood for something a bit more low-key. Those are the days I grab my snowshoes, call the dog and say the magic words every dog lives to hear. We head out to the trails — or find a lake to romp around on – and enjoy tracking through snow that way.  
Whatever the activity, the icing on the cake is the wrap up at the end of a typical mountain lifestyle day – après dining.
One place on my must-go list is Corks Restaurant & Bar (located at the resort at the Copper Horse Lodge), under new management this year. It offers a fondue special as one of its après delights. With little doubt, that'll be my stop this weekend, after a ski of some sort. There will also be a stop at the base of the Stairway to Heaven Chair to watch a bunch of mini-sized shredders bombing down chutes at Kicking Horse's Junior Big Mountain Freestyle competition. And in true mountain lifestyle form, I'll be one of the folks still wearing her toque.