Whether we choose to enter the backcountry on foot, bike or motorized vehicle, we are accepting the risk that something could break down and leave us stranded. Some breakdowns can lead to epics that are talked about for a long time, like coming out in the dark, overnighting in weird places or even requiring a helicopter ride. Blowing the track off a snowmobile in the wrong place could make for a bad time, but luckily for me it couldn't have happened in a better spot.
We had decided to head to Upper Holt for the day, and just before Gorman Lake I experienced the effects of rapid track removal syndrome. It really is amazing how quickly forward movement is inhibited with the lack of a track.
I found out that the walk of shame across the lake to find the fellas was a great way to take in the magnificent views of cliffs, couloirs and rock walls. On my left were the towering rock walls that contain the couloirs named the Dally chutes, which appear to be getting skied quite a bit this year already. On my right was the unnamed ridge that links up with the big headwall directly in front of me.
The fellas realized I was missing and came back for me by the time I got about halfway across the lake, so I thumbed a ride up and over into Holt Creek to shoot some photos.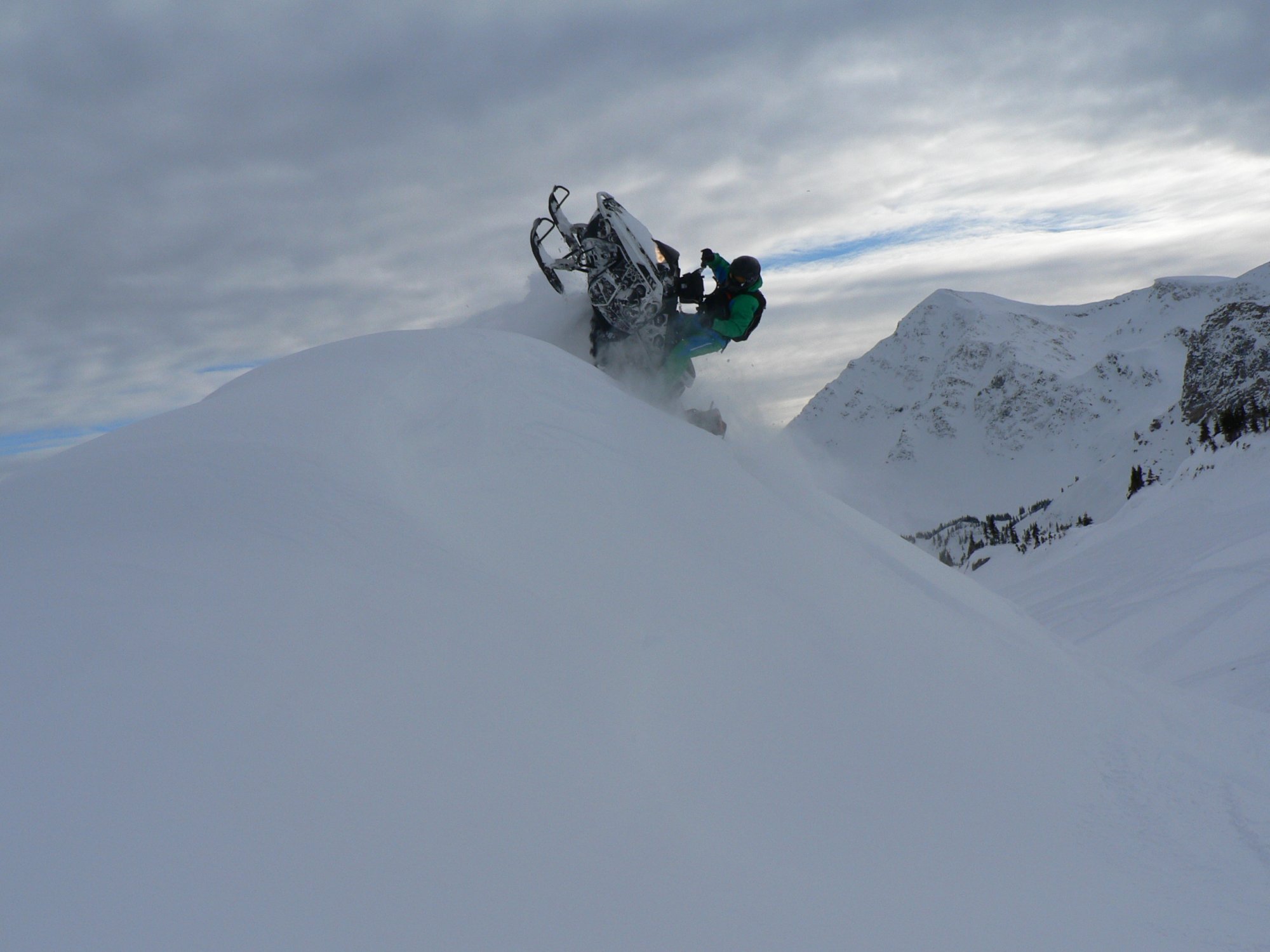 Now, there is an unwritten rule that if your sled breaks down before noon and it's a nice day, you don't ask for a tow out. What you do get is everyone else's snacks and a quick double up to a sunny spot to watch them ride. Luckily I had brought a camera, so I still had an activity to keep me busy. At the Gorman/Lang col we were met by sun and a temperature inversion that allowed me to lose a layer and hang out quite comfortably even without gloves.
A good base and the addition of 20cm from a few days earlier made the perfect recipe for the fellas to huck some cliffs and hit some of the natural jumps. After using up all the available light, we decided it was time to work on getting myself and my trackless machine out of there. As far as breakdowns go, this one couldn't have gone any better and other than sliding down the first climb up to Gorman Lake in the dark with no brakes, everything went smoothly. Thanks for the tow Cody.
Another great day sledding in Golden.