A fresh coat of forest service road dirt thickens on the dash of my truck as I bounce through the Blaeberry. Crisp air produced by the rivers roar greets two friends and I as we set up camp next to the water where the forest service road ends. Dozens of towering peaks overhead hide the sun earlier than expected and nightfall follows suit, it's chilly for a late July night. With Mummery Glacier on tomorrow's agenda, we dim our headlamps and nestle into our tents deep in the Blaeberry Valley.
Smells of coffee mixed with a heavy dew sent fill our noises as we pump tires, pack bags and top off water bottles before leaving camp. The initial bike is short lived as we do some fancy footwork to overcome the first washout in what once was a road. Back on the saddle I clumsily navigate ATV trails with big whoops on the newly carved banks of the Blaeberry River trying to chase my more bike savvy friends. We continued to cross smaller sections of flowing water, but are able to stay on the bikes – thank goodness for Gore-tex shoes! 4km of biking and we're back on a perfectly intact FSR, although it hasn't seen traffic in nearly a decade. As we pedal briskly towards our objective that is now clearly in sight, a bear scurries across the trail and disappears into the thick meadows, if we weren't awake we surely were after that. The view is laced with waterfalls, ice capped peaks, hanging glaciers, smooth recently unglaciated rock and bluebird skies that beg us to explore.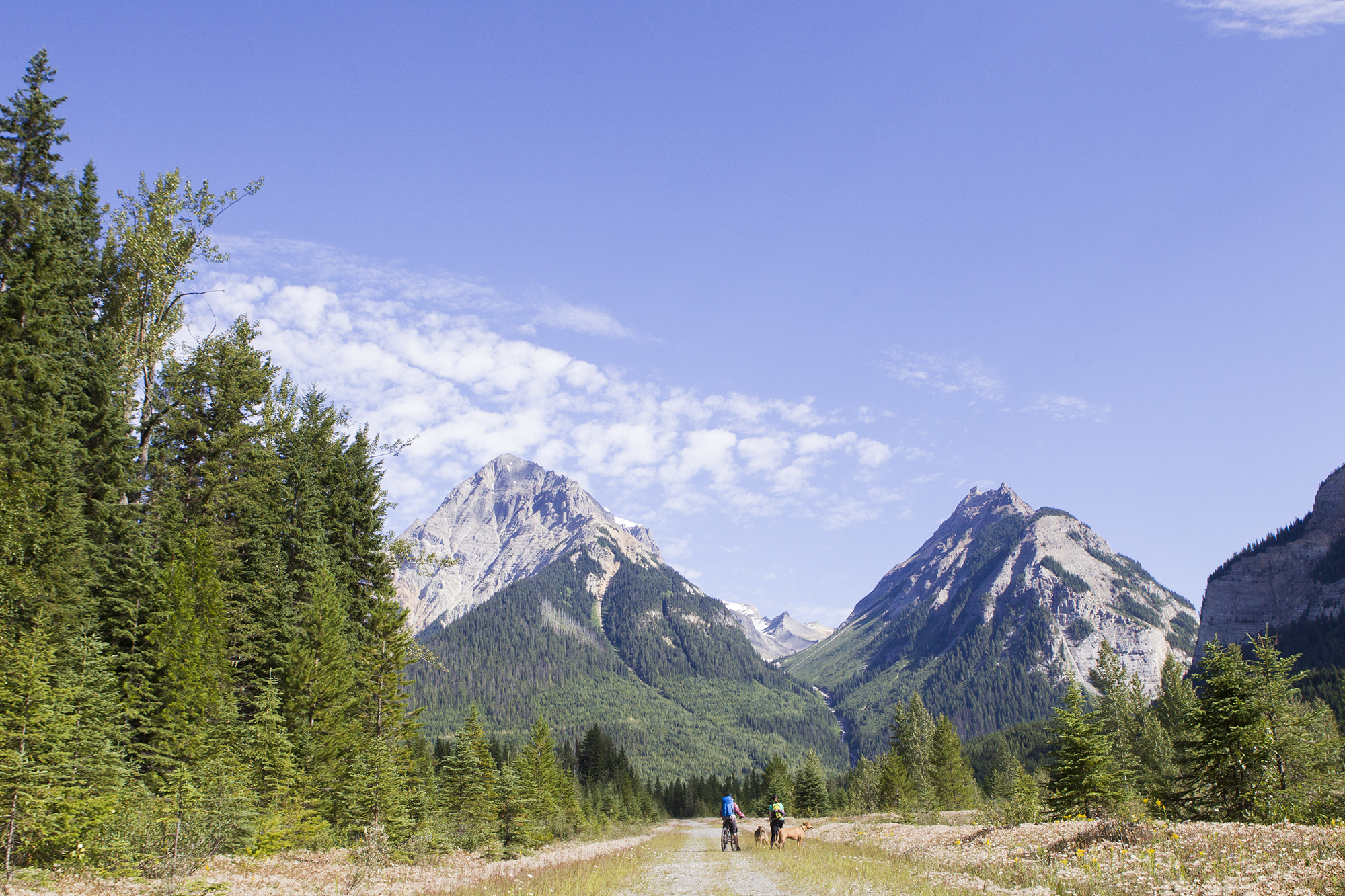 Just when I had been swallowed into the view, we were swallowed into the trees on an old FSR branch that zigs and zags and gains about 200m of elevation quickly. A not so obvious trial is marked with a cairn, old fire pit and some flagging tape. After stashing the bikes we start up the trail and even though it is "unmaintained" it is in great shape. The first part of the trail is sheltered from the sun and easy to follow, that is until it meets the main creek flowing down from Mummery Glacier. Remnants of a hiking bridge hang into the fast flowing water – time to get creative! We each found our own method for getting across the braided creek, although the favourite that was adopted by all on the way down was taking shoes off to walk through the water – which felt great on such a hot day!
Another crux greeted us after crossing the creek and lacing up, we had lost the trail. After some bushwhacking, we found cairns on the slick rock to the lookers left of the moraine. This was a trying section of travel. The heat mixed with slippery footing and substantial elevation gain had us "feeling it." On the route down we found a much friendlier trail on the moraine, take note, that's where you want to be up and down! False plateaus seemed to come and go frequently for such a short hike. Once standing upon a plateau that only gains again to the lookers left, that is where we headed – left and up! Scrambling this section isn't for the faint of heart; those that do are rewarded with a wall of ice known as the toe of Mummery Glacier. We lingered, listening to the water rush under the ice was therapeutic after a grind of an up.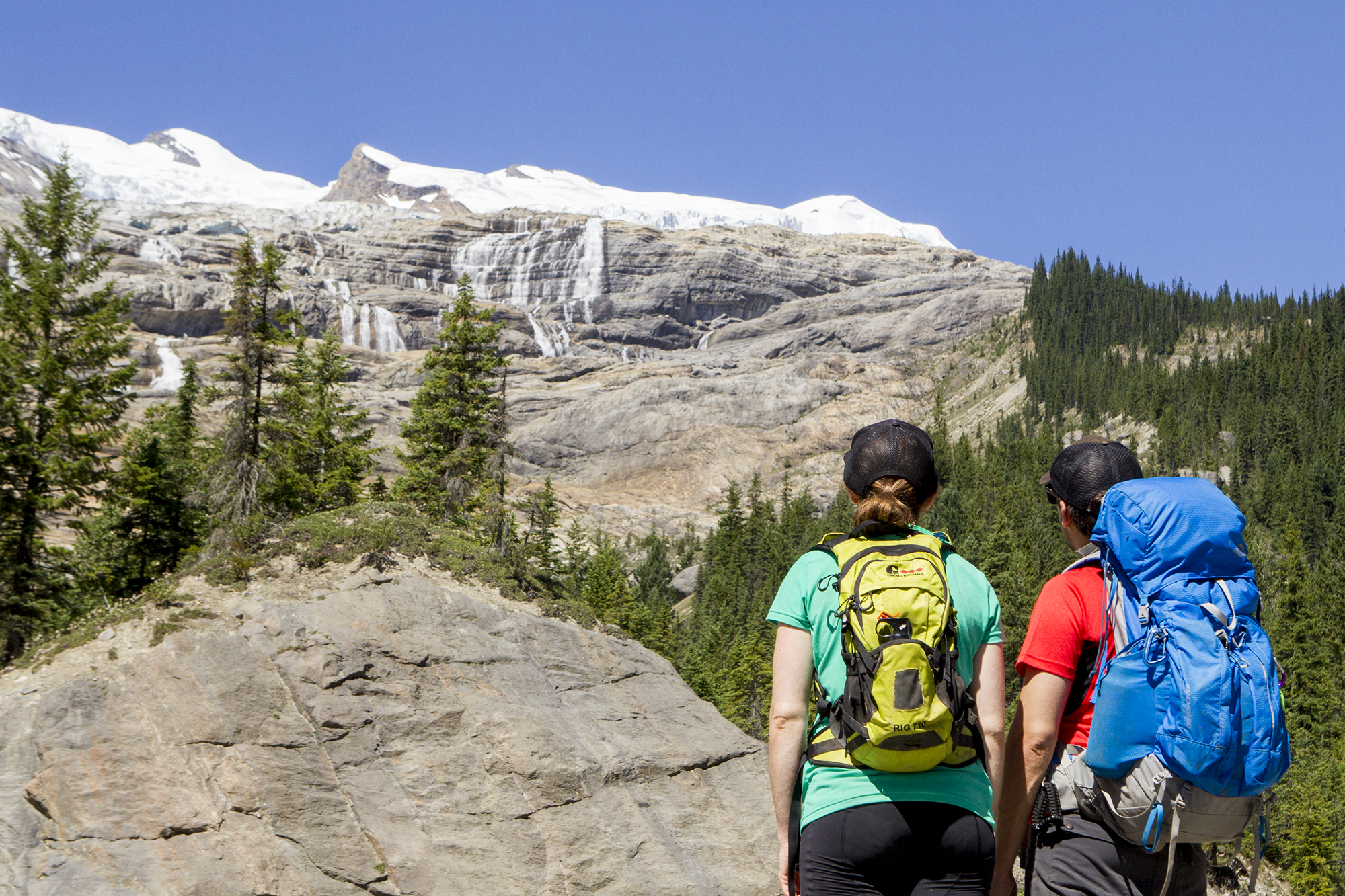 Mummery Glacier is part of the Columbia Icefields, although it is rarely used as an entrance or exit for traverses of any kind. It was tempting to explore further but with gapping crevasse and steep consequences at our back we found ourselves down climbing the last pitch with an itch to come back with glacier gear to the summit or at least explore further. With our backs to the glacier, views of the historical Howse Pass come into sight along with a series of tarns. The pups played in the tarns and napped on the ridge as we ate lunch. Descending revelled a much better route (the moraine trail) to us and we were able to stay out of the heat while working the steep terrain.
Often distracted by the sheer awe of this terrain, we moved somewhat slow to take it all in again and again. The countless waterfalls began to flow more fiercely as the afternoon temperatures spiked producing quite a show with the blue-rimmed ice above. Mummery had spiked my curiosity a year previous when learning of the abandon trail systems that lie beyond the washouts in the Blaeberry. This area offers a "last frontier" feel, a place where the terrain feels wild. There are no guidebooks or marked maps for what lies in the Blaeberry, it's yours for the taking, and with an ever-growing mountain culture, it's a rare beautiful thing to feel that way. With so much more to explore via Mummery alone and the neighbouring Howse Pass to explore there's no doubt I'll be back in the Blaeberry before too long.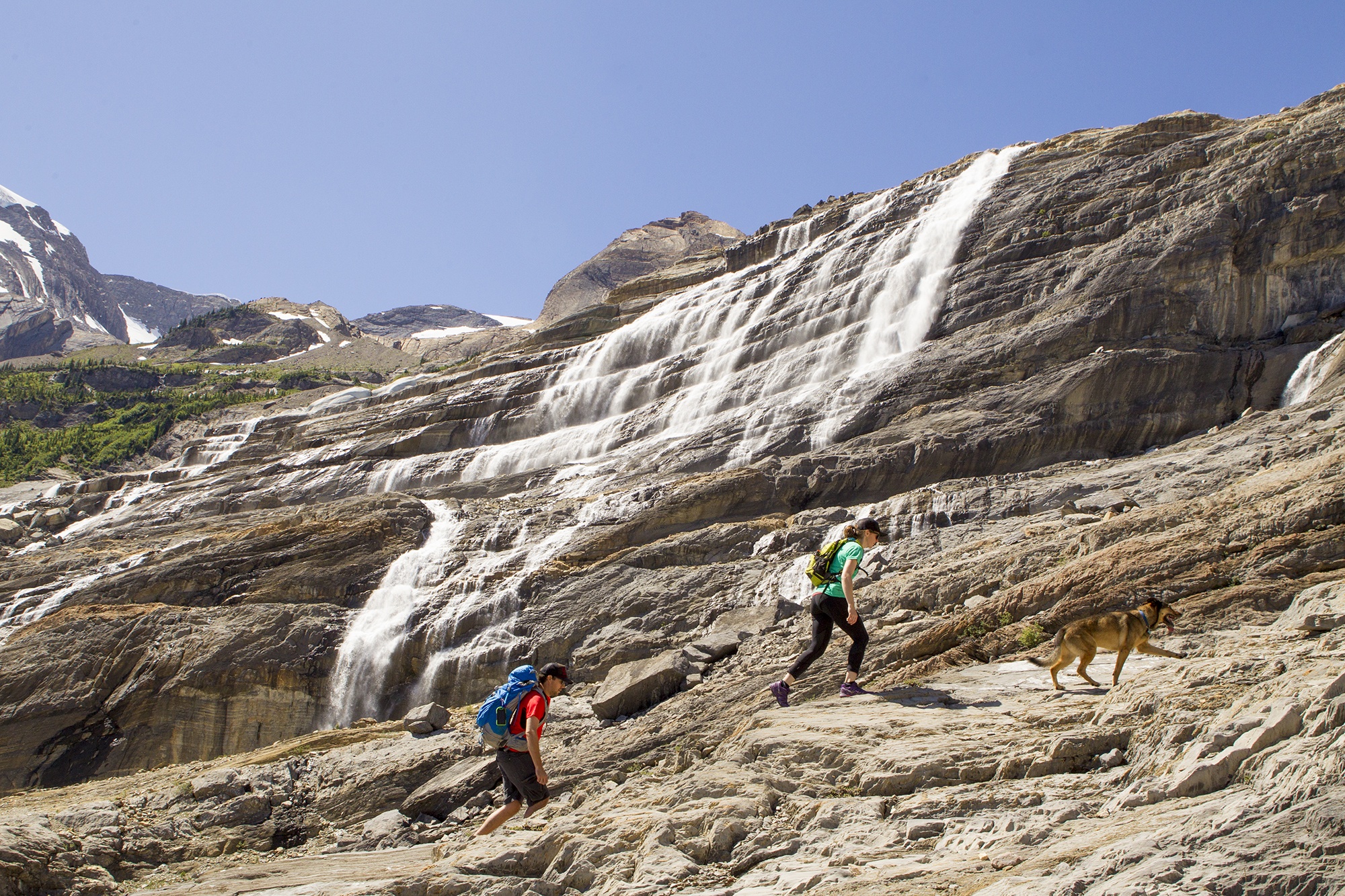 FACTS
ELEVATION GAIN: 960 meters
DISTANCE: 18.5 km round trip. Approximately 14km of biking and 4.5km of hiking.
LOCATION: Approximately 51°40'18.3"N 116°50'00.1"W
PRE-TRIP TIDBITS
Be bear smart and safe while travelling in the Blaeberry, there are more bears than humans when you get out this far.
Carry a sat phone or radio "just in case" – cell phone reception is a long ways away.
Alpine sun, it's strong and persistent, slather on the sunscreen!
She's a steep one! While poles aren't absolutely necessary they might be a great addition to your experience as well as treaded sole shoes. Don't bring those slick gym sneakers, they won't do you any favours here!
Despite being next to many waterfalls, there isn't much for water access so take more than enough for a hot steep climb.
While I hiked with my pup, I wouldn't recommend it as bringing them near the ice is dangerous and the final push of a scramble isn't dog friendly.