Snowshoeing has officially become our new thing in the 'let's do a family activity today' department. It's easy to plan, even easier to execute, and it's something we can do with the dog – always a bonus.
Being able to include our bouncy puppy also seems to work as an incentive for getting the kids excited about doing a family activity in the first place.
We have teenagers – which basically means the very mention of the term 'family activity' causes instant bleating and resistance. Happily, we seem to have figured out a formula that gets them at least somewhat enthusiastic about the idea. First, we let them sleep in (no venturing out before 11 a.m.). Second, whenever possible, we do something that includes the dog. Third, we don't plan for anything that involves too much uphill or physical strenuousness (it makes them grumpy). And lastly, we promise we'll stop for hot chocolate and a snack after.
Snowshoeing fits the bill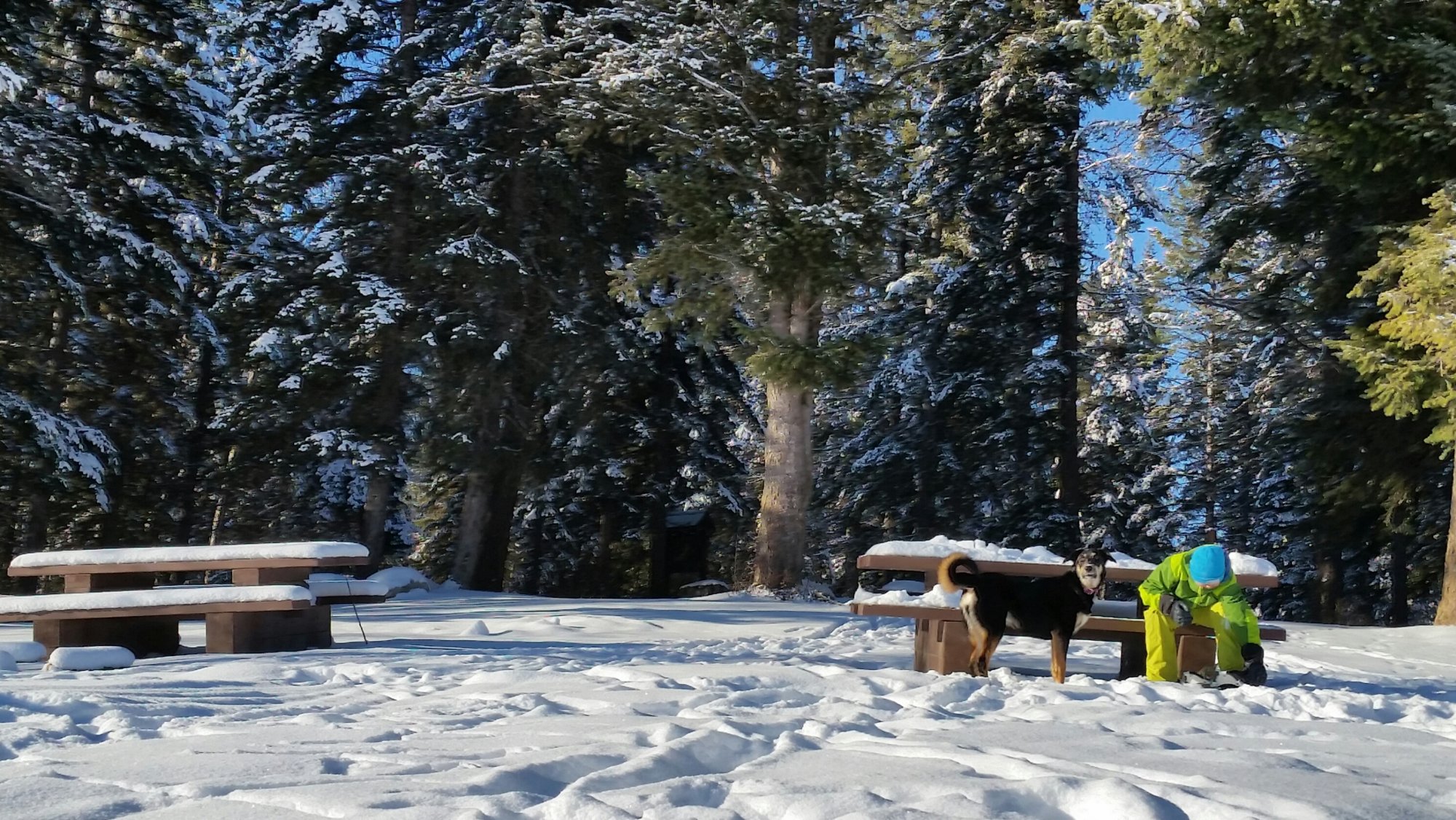 We're fortunate in Golden because there are endless choices for snowshoeing. On bluebird days, we like to tromp around on the lakes, mostly for the maximum sunshine effect.
Cedar Lake is popular with our crew – and works well for when some of us are skiing that day as well. (Cedar Lake is close to the ski hill. The turn off is well-marked, it's at the last hairpin on the road coming up to the ski hill). Cedar Lake is also a campground, and it's also where you access the Moonraker trail system. This means there are plenty of options for what to do when you get there. There are picnic tables if you want a spot to enjoy a snack or lunch, trails if you want to head into the trees and go exploring, and of course, there's the lake itself for the treat of fresh tracks and sunshine (pretty much a perfect combination in my books).
The Dawn Mountain Nordic Centre, also located up at the mountain (go past the ski hill parking lots then turn right at the four-way stop and the road will take you there) has some great snowshoe loops. There are also snowshoe rentals.
Our family also has fun on the Mountain Shadow trails (which we access from the Cedar House trailhead, located right at Cedar House Chalets and Restaurant), which are blissfully serene. We've been out three times in the last two weeks and have yet to run into another person. Reflection Lake is another great choice (just south of town; it's on your left after you get over the bridge) and it provides the added bonus of skating and tobogganing.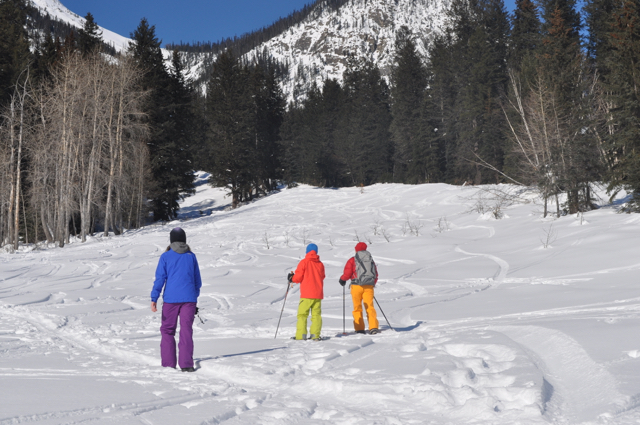 For the snack and hot chocolate part of our 'family day' excursions – often an equal highlight to the snowshoe itself -- there are lots of great places in town to choose from. Jita's Café, Bean Bag Coffee Roasters, the Bluebird Café, and Bacchus Books and Café are the main coffee-shop type spots and they're all terrific.
Jita's is the kids' favourite for hot chocolate. It's got excellent food and a great atmosphere, including some comfy couch and chair seating spots. Bean Bag Coffee Roasters roast their own beans so it's a definite favourite for java lovers. And they make some amazing specialty drinks too (try the white chocolate raspberry latte. Yum). The Bluebird Café is known for its tasty paninis and yummy breakfast options – and its 9th street location makes it a perfect place to stop when you are on your way to or from the ski hill. Bacchus Books and Café is the spot we decided to hit on our last outing. We always enjoy its lovely quaint atmosphere, not to mention the fact that they always seem to have some super tasty baking that's just come out of the oven.
Happy showshoeing — from our family to yours!